Work from home with the curfew being imposed gives me a bit of time to write on my new vehicle. 
I have so far owned only cars and I have always been am ardent fan of 4WD's so I was on the look out for a vehicle when I was getting rid of the Fit Gp1. I wanted something that is reliable and something that could be used as a daily drive. This time I didnt mind going for a 3 door vehicle as my brother was going to be out of the country for a years period and I could use his vehicle to transport my parents. So I had a look at the quick ad website and found a Toyota Land Cruiser BJ70 (Short wheel base coil spring model) ex army auction vehicle. It was advertised at a home so I picked up the phone and called him up only to find that he had given it to  car sale in Malabe to sell. Asking price was also ok so I went and had a look, vehicle was very well restored but when I took it for a test drive I was shocked to see how bad it was mechanically. It would pull hard to the left when I pressed the brake at low speeds and it was scary. So what I did was I spoke to my relative running a garage and asked how much I will have to spend to sort out the brakes, luckily for me one of his wife's relatives is a big LC fan and he had restored one of these and I was told to get in touch with him. No sooner I told him the details he gave the full back ground story, and he asked me to look a round a bit more.
Look around was what I did and low and behold this Suzuki Samurai pops out from no where. I have been an big fan of the Suzuki's and I had so much of literature on the Suzuki's but this was something new as the ad said coil spring. So I did a bit of research and was happy to see that they came with electronic fuel distribution and 82hp engine. I dug into my stash and then I found the original brand new catalogue which bought me down to earth as it said 64hp and carburetor. I didnt want to let go of the chance so I immediately took a call to the previous owner and ensured that it was a personal vehicle and asked if he was in around Colombo to which he said yes and when I tried to go see the car he said that he didnt bring it and the vehicle is in Ambalangoda. So I asked my brother to accompany me all the way to Ambalangoda, at first it was going to be only the two of us but since they were going away for a year they wanted to go on an outing so the whole family went with me.
When I got to the previous owners place I got to know that he has a few more Samurai's / Jimny's with him and restoring these were his past time. So I asked if we could take the car for a spin to which he agreed. The first impressions were quite good it did have good pulling power and when asked he said that he has taken it on the highway and reached 120kmph. I of course didnt want to take a risk on a completely new 20+ year old vehicle with a very high center of gravity. So we did the negotiations and finally paid about 75,000 more than I anticipated but for that money I had a few off road goodies included which altogether was worth about Rs. 300,000/- which was a pretty good deal.
Kit Included,
1. 2" lift kit
2. Original Warn winch bumper
3. Whinch
4. Work lights
5. Original Suzuki for lamps
6. Roof rack
7. A brand new set of Maxxis Radial (In Australia they go as AT tires)
8. Working snorkel
I was not a big fan of the external colour scheme and it was more of a "Thorombal Karaththe" look to it. I asked the previous owner why he went with that look and he said it was done during a phase of his life that he liked this colour scheme. Everyone has their own liking's. 
I took the car home through some scenic roads which included stops at some of my brother's friends and a waterfall and got back home in the evening. Very next day I took it to my relative and asked him if he could change the colour of the grille, door handles, wiper blades and mirrors as it was painted red and white instead of the original black. he agreed and so I proceeded to take off the stickers on the body.
A change of plan came during the next week as the original book said Mettallic Blue, which according to the catalogue was a colour called Reddish Blue. So I went back and asked the garage to change the colour to the original colour as per the tag bit with a change only with the final coat which should be matt. There were a few loose ends that needed to be tied up and it was left at the garage for them to attend to all.
The rains in October and November didnt help me one bit as it took them a long time to get it finished, and I was getting aggravated as I had planned to do the devil's staircase in November and was pushing them like crazy. It went to the extreme of me going and sitting in the garage on Saturdays observing the work. However two days before my trip I got the vehicle but disaster struck as the garage driver was stopped by police just taking the vehicle out of the garage without license and insurance. The next day I went and took the stuff and took the vehicle home and to fix a set of new wheels which I had planned. I took it all the way to bambarakanda but was not able to go up the devils stair case due to land slides etc.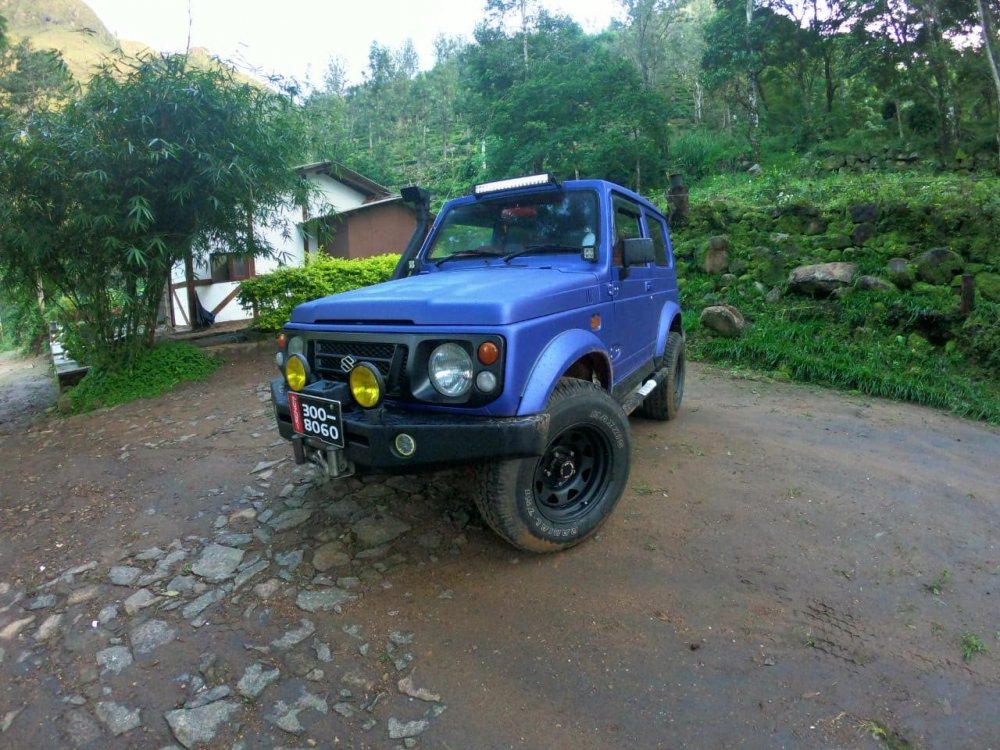 I had ordered a set of new LED headlamps but they got delayed to come so I couldnt fix it on the first go.
4

3